Health and Wellness Made Simple For Moms On-The-Go
I'm Ayat, a registered dietitian, helping moms like you simplify nutrition by offering practical tips and easy recipes that blend seamlessly into your busy schedule!
Get Your FREE 5-Day Mindful Eating Challenge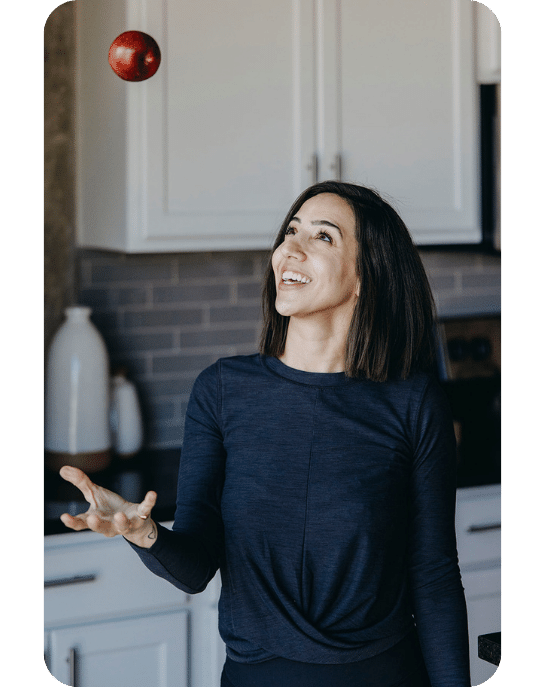 Hi, I'm Ayat
I'm glad you're here!

I started The Mom Nutritionist 3 years ago, back when I first became a mom of two and a few years after becoming a Registered Dietitian Nutritionist.

My number one goal is to help you find simple ways to make your health a priority. Here you will find easy, quick, and family-friendly recipes as well as inspiration for healthy living.
My Philosophy As An RDN
Practicality at the Forefront
No fad diets or unachievable exercise regimens – just realistic, manageable lifestyle changes even busy moms can stick to.
Empowering Through Knowledge
It's not just about following advice; it's about equipping you with the knowledge to make informed decisions about you and your family's health.
Keeping Health Fun for Everyone
Who said healthy living has to be a chore? I'll show you that a healthier lifestyle can also be a fun one.​
Versatile Holistic Approach
From mindfulness tips to meal planning, my content covers different aspects of health and wellness.
Balanced Nutrition On the Go
I champion a plant-heavy, balanced approach to nutrition. It's about harmony, not extremism, in our food choices.
Transformations: Real Moms, Real Results
"I had been struggling to lose the baby weight and get back in shape after having my second child. I tried various diets and exercise routines, but nothing seemed to work. That's when I consulted with Ayat, and it was a game-changer! She created a personalized nutrition plan that took into account my dietary preferences and lifestyle. Not only did I start shedding the extra pounds, but I also felt more energized and healthier overall. Her guidance and support were invaluable, and I can't thank her enough for helping me regain my confidence and live a healthier life."​
"As a busy mom of three, I always put my family's needs before my own. I neglected my health and found myself constantly tired and lacking motivation. That's when I reached out to Ayat, and it was the best decision I made. She taught me how to prioritize self-care and provided practical strategies to incorporate healthy habits into my daily routine. With her help, I discovered delicious and nutritious meals that my whole family enjoyed. I'm now more active, have more energy to keep up with my kids, and feel like a happier and healthier mom."​
I struggled with emotional eating and had a hard time maintaining a balanced diet, especially after becoming a mom. I often turned to unhealthy foods for comfort and stress relief. Working with Ayat was truly life-changing. She helped me understand the root causes of my emotional eating and provided me with effective strategies to overcome it. Thanks to her expertise and guidance, I've learned to manage my emotions without turning to food and have developed a healthier relationship with food. I feel empowered and in control of my choices, and I'm now setting a positive example for my children​
Hey there, busy moms! Are you tired of wracking your brain for a dinner meal…
This blog post will share the best-frozen foods & meals high in protein. Keeping high-protein…
Having a list of healthy freezer meals for new moms on hand is the biggest…